Easy-Graft (mouldable, alloplastic bone graft substitute)

Guiding Oral Rehabilitations 
GUIDOR® products are used by periodontal and implant specialists to enhance healing and guide a return to positive health of aesthetically compromised or surgically challenged hard and soft tissues. The GUIDOR portfolio* includes innovative materials for hard and soft tissue regeneration, locally applied antibiotics and microbiological test kits.
GUIDOReasy-graft ** is the first mouldable, alloplastic bone graft substitute with in-situ hardening. GUIDOR easy-graftprovides: 
• no substances of animal or human origin 
• high porosity & osteoconductivity 
• syringe application
All products packaged as pack of 3 SYRINGES
GUIDOR calc-i-oss** products offer a highly porous osteoconductive and alloplastic material in traditional granules format. 
GUIDOR easy-graft and GUIDOR® calc-i-oss are available in CLASSIC and CRYSTAL formats offering a choice of resorption profiles. 
GUIDOR bioresorbable matrix-barrier** is the first multi-layered, bioresorbable alloplastic matrix for guided bone and tissue regeneration. GUIDOR matrix-barrier provides: 
• outstanding clinical success*** 
• excellent safety profile 
• no substances of animal or human origin
In their forward thinking article (Periodontology 2000, Oct 2003), Professors Hämmerle & Jung stated:
..."to simplify clinical handling, new materials should comprise a matrix with optimal cell ingrowth capacities and good mechanical properties, providing space for tissue regeneration. No membrane and no specific procedures for mechanical fixation should be necessary...
...the use of synthetic (alloplastic) materials would result in lower surgical risks and lower morbidity in augmentation procedures and would represent an important step forward in simplifying bone regeneration techniques."
With GUIDOR easy-graft and its stunning handling and technical features such forward thinking considerations become reality.
The GUIDOR
 

easy-graft

 

difference

1: GUIDOR easy-graft system contains a pre-filled syringe of polymer coated granules (coloured blue in the illustration and labeled B in the scanning SEM image in the 'Granule Porosity' section below) together with a separate ampoule of polymer activator (BioLinker, as shown by dots in images 1).
2: When added to the syringe, BioLinker softens the polymer coating creating a sticky surface. GUIDOR easy-graft granules stick together when compressed and shaped.
3: When in contact with body fluids (highlighted in pink) BioLinker is flushed out of the material.
4: GUIDOR easy-graft hardens in a matter of minutes, forming a stable porous scaffold of interconnected granules matched to the defect shape (see also 'Macroporosity' SEM image below).
Granule Porosity
Osteoconductive bone grafts must stabilize the site, support a clot and provide space for new bone formation.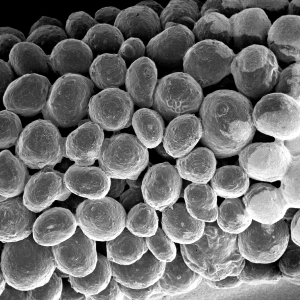 Macroporosity
The stable scaffold created after application of GUIDOR easy-graft material stabilizes the site. The space between the adjoined granules supports a clot and allows space for development of subsequent new vessels.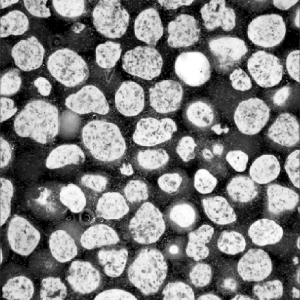 GUIDOR
 

easy-graft: high porosity (70%) and open pore system

Microporous calcium phosphates with pore sizes 1 μm to 10 μm provide increased osteoconductivity and bone formation in comparison with materials without micropores. An open micropore system allows for optimal fluid circulation.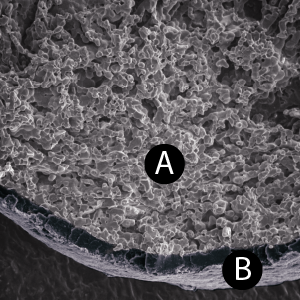 Microporosity
The high microporosity of GUIDOR easy-graft is visible under the scanning electron microscope (A).
BioLinker and PLGA resorption
The resorption process for BioLinker and PLGA polymer coating takes place in two stages:
Stage 1) BioLinker is extracted within hours
More than 90% of BioLinker is removed from the bone graft substitute within three hours (1)and excreted through the urine within 1–3 days (2). BioLinker contains NMP, a solvent widely used in pharmaceutical and medical devices such as dental membranes, subcutaneous drug-release systems etc.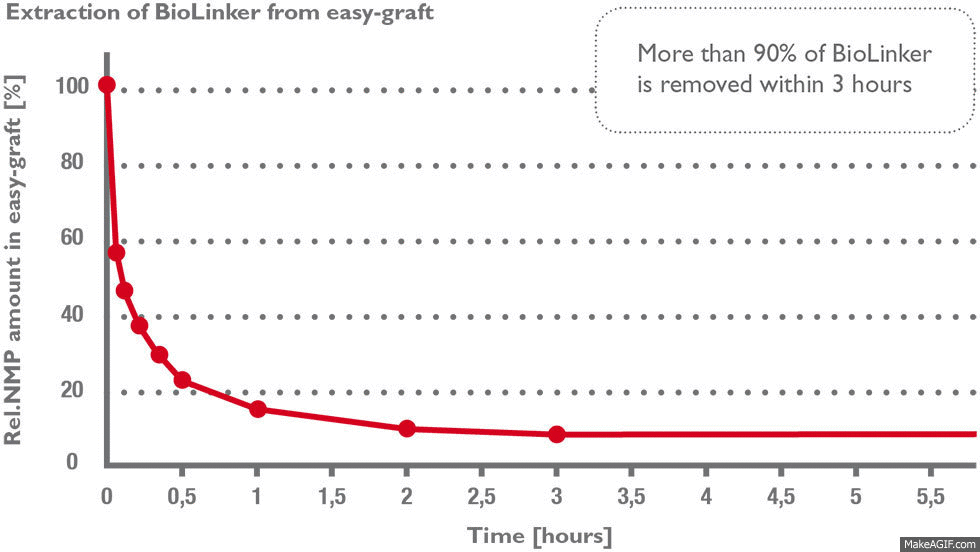 Stage 2) The PLGA polymer coating is resorbed over a few weeks
In parallel to the healing and regeneration process, the PLGA coating and adhesive connection between the granules gradually weakens (three to six weeks in vitro). The resorption process of PLGA is controlled by a hydrolytic cleavage of the polymer chains. Upon complete degradation, lactic acid and glycolic acid are formed. Both metabolites are innocuous, and they are excreted in the form of carbon dioxide and water.
References:
1. Habibovic P., Sees T. M., van den Doel M. A., van Blitterswijk C. A. and de Groot K.: Osteoinduction by biomaterials – physicochemical and structural influences J Biomed Mater Res A ( 2006 ) 77( 4 ): 747-62.
2. Hing K. A., Annaz B., Saeed S., Revell P. A. and Buckland T.: Microporosity enhances bioactivity of synthetic bone graft substitutes J Mater Sci Mater Med (2005) 16(5): 467-75
Over 90% of surveyed clinicians reported that they are "very satisfied", or "satisfied" with the handling, wound healing and bone regeneration of GUIDOR easy-graft (1).

The unique mouldable (syringe delivered) technology and in-situ hardening features of GUIDOR easy-graft create a perfect analogue scaffold within the site. GUIDOR easy-graftdoes not require a dental membrane for stabilisation in most cases (for specific indications - see local IFU). This key feature makes it ideal for minimally invasive procedures, ridge preservation and cases of peri-implant grafting where significant defects are not identified.
The in-situ hardening and mouldable application can be useful adjuncts when combined with alternative bone graft or membranes in advanced sinus lift and ridge augmentations.
Chair side preparation of GUIDOR
easy-graft
Clinical application of GUIDOR
easy-graft
Case video care of Dr Leventis (Athens University, Greece and Private Practice, London (England)
Reference:
1.GUIDOR easy-graft Customer Satisfaction Survey (148 participants), February 2014
Each GUIDOR easy-graft system contains one pre-filled syringe of coated granules and one ampule of BioLinker activator.
Choice of two resorption formats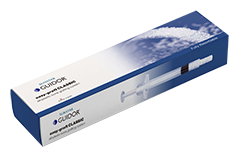 GUIDOR easy-graft CLASSIC
(fully resorbable)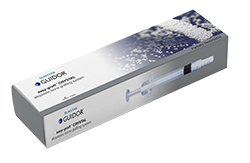 GUIDOR easy-graft CRYSTAL
(partially resorbable)
Product
GUIDOR

 

easy-graft

 

CLASSIC
Material
Phase-pure ß-tricalcium phosphate (> 99 %)
Units
3 x 0.15 ml
6 x 0.15 ml
3 x 0.25 ml
6 x 0.25 ml
3 x 0.4 ml
6 x 0.4 ml
Granule size
500 – 630 µm
500 – 1000 µm
IFU
Download IFU (Non USA)
Download IFU (USA & Americas)
Product
GUIDOR

 

easy-graft

 

CRYSTAL
Material
Biphasic calcium phosphate (60 % hydroxyapatite / 40 % ß-TCP)
Units
3 x 0.15 ml
6 x 0.15 ml
3 x 0.25 ml
6 x 0.25 ml
3 x 0.4 ml
6 x 0.4 ml
Granule size
450 – 630 µm
450 – 1000 µm
IFU
Download IFU (Non USA)